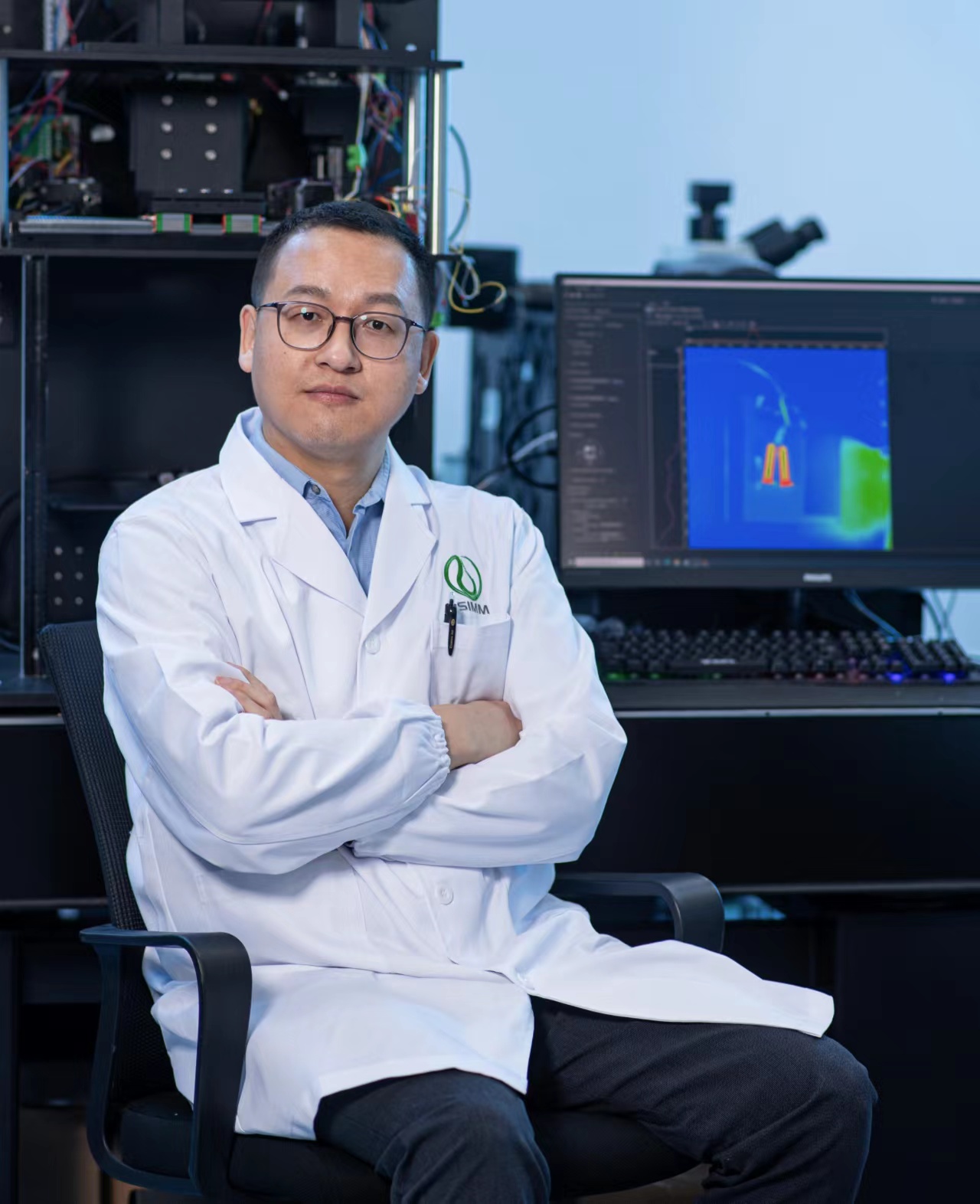 Principal Investigator
Molecular Imaging Center , SIMM, Chinese Academy of Sciences
2015.6-2019.2 Postdoc, Stanford University,Palo Alto, CA, USA
2014.2-2015.6  Joint training Ph.D, Stanford University,Palo Alto, CA, USA
2009.9 -2015.6  Ph.D. Biochemistry and Molecular Biology, Wuhan University, Wuhan, China
2005.9 -2009.6  B.S.  Pharmacy, Wuhan University, Wuhan, China
Dr. Chen got his Bachelor Degree and PhD from Wuhan University . Then went to Stanford university, Molecular Imaging Program at Stanford (MIPS), Department of Radiology as postdoctoral fellow. He joint Center for Molecular Imaging Research, Shanghai Institute of Materia Medica, Chinese Academy of Sciences as a professor from 2019. Dr. Chen focuses on theranostic drug development, concentrates on interdisciplinary research. He devotes himself to developing new molecular imaging technology for faster, cheaper drug development.
Research Directions
1.Theranostic drug development (optical, PET-CT, SPECT-CT, etc.);
2.The application of molecular imaging in drug development, including drug target identification, efficacy evaluation, the pharmacokinetics of the biological drug, phase 0 clinical trial, etc.;
3.Radiopharmaceutical chemistry (18F, 68Ga, 89Zr, 3H, 14C, etc.);
4.New imaging system development. 
Grants & Research Projects
Shanghai Pujiang Program (19PJ1411100)
National Natural Science Foundation of China (82071976)
Achievements
1. Designed and synthesized the first modifiable NIR-II (SWIR, 1000-1700 nm) fluorescent dye (CH1055) for NIR-II imaging;
2. Developed mitochondria-targeted theranostic probes for fluorescent imaging-guided tumor surgery and chemotherapy.
Awards & Honors
1. 2019  Shanghai Pujiang talent program
2. 2017  Student Travel Stipend, World Molecular Imaging Congress (WMIC)
3. 2017  Young Investigator Award (3rd place), Center for Molecular Imaging Innovation and Translation (CMIIT), Society of Nuclear Medicine and Molecular Imaging (SNMMI) 2017 Annual Meeting
4. 2017  Young Investigator Award (2nd place), Chinese American Society of Nuclear Medicine and Molecular Imaging (CASNMMI)
5. 2016  Young Investigator Award (3rd place), Center for Molecular Imaging Innovation and Translation (CMIIT), Society of Nuclear Medicine and Molecular Imaging (SNMMI) 2016 Annual Meeting
6. 2016  Young Investigator Award (1st place), Chinese American Society of Nuclear Medicine and Molecular Imaging (CASNMMI)
7. 2016  Academic Innovation Award of Wuhan University (1st place)
8. 2012  Academic Award for Excellent Ph.D. Candidates funded by the Ministry of Education of China
9. 2012  Wuhan University Zhu Yubi Medical Award
10. 2012  National Award for Postgraduate Students (China)
11. 2012  Academic Innovation Award of Wuhan University (2nd place)
12. 2011  One of the only seven members for "Testing Program for the Training of the Top-notch and Innovative Interdisciplinary Ph.D. training program" of Wuhan University
13. 2010  Wuhan University outstanding student cadres
Contact Information
Molecular Imaging Center
Shanghai Institute of Materia Medica
Chinese Academy of Sciences
4th Floor, Building 3, 647 Songtao Road, Zhang Jiang Hi-Tech Park
Pudong, Shanghai, 201203, P. R. China
Email:haoc@simm.ac.cn
Tel: +86-021-68077852